Planting bulbs now for flowering next Spring is such a joy and a landmark in our gardening year. I tuck them in the soil thinking "see you next year", planting daffodils, alliums and tulips.
How do bulbs fit into a cottage garden style? Well, one thing they do is give a colourful start to the year, with snowdrops letting us know that growth is on the move and then scilla, anemones, crocus, iris, hyacinth and narcissi. As they can be tucked in tiny spaces and under perennials to appear here, there and everywhere, they work well in the jumbled planting.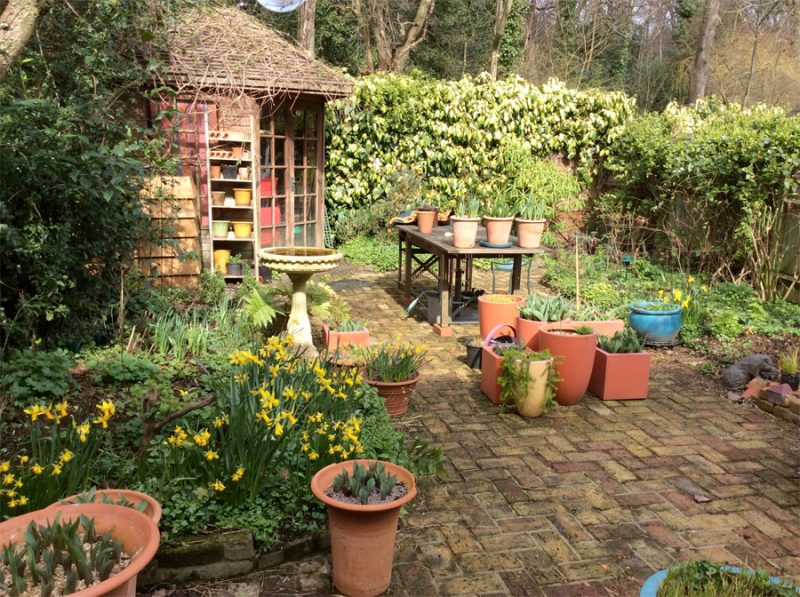 Personally I don't plant crocus (birds eat the flowers) or hyacinths, but I use daffodils a lot and leave them in to increase and come up every year. I can't resist buying more every autumn though, and always find room for more. A small hole the size of my hand can take 3 or 5 bulbs, enough to make a small splash of colour.
I've decided over the years that I want the colour of daffodils in February and March but that by April I don't need them because so much else is growing. So now I don't plant the late varieties.
In April and May my colour comes from tulips and then alliums. I'll talk about tulips next time, but in the meantime here's my tulip splash earlier this year.